I love to teach because I love to learn.
What I learned from my students this semester is that you should always make the extra effort to make your work better.
Case in point: two students received A+ on their first projects but took my comments and revised. They knew they couldn't get a better grade but they wanted to make better projects, and they did.
Wow!
Now at the end of the semester, after I sat through endless pitches, radio cuts, rough cuts, fine cuts and revisions and graded all their final projects, I had a few ideas I wanted to share:
Dear Video Storytelling for the Web Class

My thanks to you for all your hard work this semester. I've learned a lot from each of you and I've condensed a bit of what I've learned into the following 5 points which I intend to keep with me when I propose, shoot and edit my own stories:
2) Strong stories consist of actions that you can witness. (This is also true of strong written stories) Video is a medium of present tense storytelling.
4) Visual sequences are the grammar of video storytelling. "B roll" is like wallpaper: pretty or tacky but meant to be in the background. Write strong sentences; always capture compelling sequences with a beginning, middle and end.
5) Mobile is the future. Close-ups and Extreme close-ups have the most impact on a mobile device like your phone or tablet. Shoot close 85% of the time but remember to shoot one killer wide shot too.
Thanks to all of you for inspiring me! Enjoy the summer.
Young photographers push the envelope much more than their professional peers.
So I was excited to be a judge for the multimedia categories of the College Photographer of the Year.
I looked at a lot of stories. I saw a lot of profoundly mediocre work. But the final selects, roughly 5-7 pieces in every category, were very strong, compelling stories, often with surprises, often with unfolding action and very often with an emotional hook.
_____________________________________
Here's some of what I learned…

Surprise me and I'm yours
Once there was a surprise in a story, I was usually hooked and watched until the end.

Several times I was reminded of a great quote from Ira Glass that is something like: "Even stories of life changing events can lack surprise."…hence, might not be a story worth doing.
What makes me keep watching?
Try to think of the start of your story like the opening sentence (or sentences) of a great book. You need to hook the viewer quickly , no matter how long your piece will be. Posing an "unanswered question" helps make me stay connected to your story also.

I looked at several hundred multimedia stories over the past two days. I didn't watch very many to the end but I did feel obliged to give them a fair shot. When I started to get bored I'd watch a little bit longer and when I couldn't bear it anymore, I'd look at the play bar

Most of the time, I had watched the first 50 seconds to 90 seconds before I bailed. Online, people have a much shorter attention span. So make sure you have something very interesting happen in the first 20 seconds to keep me watching.

A typical strategy is to start with something compelling or a surprise then establish the character.

Put some strong material upfront. As writers would say, don't bury the lede. I heard a lot of statements that would have been great opening lines in the middle of a piece. That's usually too late.

As film maker Lucy Walker said, "Try to hold off the first talking head for as long as possible."
The best multimedia is "present tense storytelling"
Events should unfold in front of our eyes, allowing us to experience them in real time the same way our subjects are experiencing them. If a story is all in the past, video might not be the best form to tell the story. "Show, don't Tell." If we can see it, we can feel it, live it, be a part of it."
Sound rules
Bad sound means a bad story no matter how wonderful the images or story structure. Make sure you have great sound.

Always mic the interview subject using a lavaliere or a boom. The interview audio should be clean and the quality good enough for a network radio story.

You have two ears and you use them both. Be extra careful that the audio is panned to both channels. (Audio that played in only the left or right channel was the most unnecessary mistake I experienced during the contest.)

Less is more when filters are involved. If you have background noise, be very careful with the noise reduction filter. Too much noise reduction gives the audio a squirelly undertone. To avoid this, make very sure to record interviews in a place with no background noise.

Don't let your audio peak. It sounds like fingernails on a chalkboard, even if you lower the volume, it sounds like slightly quieter fingernails on a chalkboard.

Music is a double-edged sword. Great music can really help but bad music can kill your story. Be careful.
The thumbnail is crucial.
The thumbnail is the cover of your book, the poster for your movie.
If you make it compelling, the thumbnail sets the tone for your story and entices the reader to "click on me" . Put the headline on it too. It helps people remember what your story was about and helps people to find it again and share it.

Words, words, words
If you must have a text slide, make the lines flush left because it makes them a quicker read than centered text.
If you're using subtitles, be sure the font is readable with adequate leading.
Why do text slides have to be on black? Why not put your text over an image to give the quick reader something else to look at?
If you story starts with a few screens of text on black, you should probably go all the way and tell it as a text story.
Sometimes it's good to work in a team to play to your strength
Perhaps the most frustrating aspect was a small subset of stories that were
a) beautifully shot stories but lacking a compelling story or compelling storytelling
b) amazing stories of great characters that were badly shot without scenes or sequences or with poor audio.

I wish I could have paired those people into teams.
Using still photographs
if you'd like to use stills, be sure the subject of your story is best told in stills. Video is great for motion and emotion so stories about active things like running, football, baseball, mixed martial arts & quiddich are not great candidates for audio slideshows .
If you're mixing stills and video, think in terms of putting your stills into a scene and not just dropping a single image into your story.
Try to think why a certain scene would be best told in a series of stills


Random thoughts:

If your story has no narrator and no on-camera correspondent, who are the subjects looking at when they look offscreen during the interview?
Don't ever interview the Executive director, President, Head of house, CEO, etc. unless they're compelling storytellers. You might make those people happy but you'll pretty much be assured that no one will watch your video.
Narration can work, especially to stitch scenes together or as a transition between scenes. For narration, less is more. Think of narration as your text slides. If you have more than a few lines of narration, you probably should convert it into a radio story.
Issue stories need to have a universal hook to keep everyone interested. Issues are better dealt with as the secondary focus of a story unless you're writing a white paper for a think tank or your Ph.D.
Use a tripod as much as you can. If the subject is not moving (a building, a book on a table) always use a tripod.
You breathe ( I hope). Make sure your story has space to breathe also.
Make character and story your mantra.
Text? Sound? Multimedia? Broadcast TV? Which is the best medium to tell a story? In the last days two major US media outlets chose to feature a story about an obscure 82 year old jazz pianists from Buffalo, NY. Not exactly the usual subject for a national media feeding frenzy but interesting to compare the stories. Which worked well? What did each version leave out? How did each version start and finish?
Here's the line up:
The story in print from the NYTimes
The story in multimedia, also from the NYTimes
The story on the radio from National Public Radio's Weekend Edition
and finally, the same story on local Buffalo TV News.
For the first few minutes, this story looks more like super slick Nike commercia about a mixed martial arts fighter.
But right around 2 minutes the story takes a sharp left turn and ends up in "wow" territory.
Great example of how all good stories need a conflict.
Wow!!!
Wonderful to see people stretching the mold of what broadcast television storytelling is all about. Hats off to ESPN's Outside the Lines!
Talk all you want about how words are important but you are never, ever going to string together a sentence that can capture what this video shows at the 30 second mark. Then keep watching…
However, murmuration, the word that describes this phenomenon, is very cool.
(Here's another video on the same phenom.)
I've long been a fan of Ira Glass.
Also hate to admit that I feel like I suck more times than not. Good to know I'm not alone…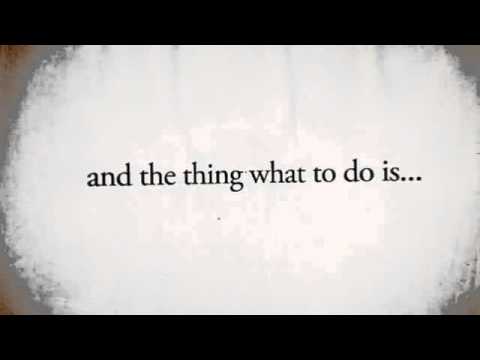 and I need to be producing more work.
Here's a nice short story about an Indian barber shop told without any words but driven by a lively song.
Tom Pietrasik, who made the short, provides some insight into his tools and also gives an interesting description of what it was like to obtain the rights to the music. I'm constantly talking about not stealing music nd so it was great to see that Tom did it legally.
I found this at the Virgin Media Shorts Festival.
The folks at Cisco think video will make up 90% of the traffic on the web within the next 3 years. David Hsieh, VP of marketing, Video and Emerging Technologies at Cisco, says that video already makes up more than 51% of the traffic on the web. Cisco is a California based company that designs and sells consumer electronics, networking, voice, and communications technology.
(thanks to Sandeep Junnarker for spotting this story.)
For years I've been trying to remember the name of a particular short film that I saw in a high school english class that so stunned me that it made me fall in love with storytelling.
Yesterday, I found a small item in the Wall Street Journal about how modern movies reference Rod Serling's The Twilight Zone.
And there was the name of the movie!
"Occurrence at Owl Creek Bridge," a 1962 short directed by Robert Enrico based on an Ambrose Bierce short story.
I found the film online and watched it today. It's as incredible now as the first time I saw it, and I still remember the shock I had at the ending.
Maybe this is where I learned that the job of the storyteller is to show the people the world in a different and surprising way.

LikeTelevision Watch Movies and TV Shows
(And the Journal snapshot suggests that M. Night Shyamalan's Sixth Sense was based on the film and another site also suggested that this film was the only episode of the Twilight Zone that was not written and produced by Rod Serling.
To survive as journalists, we need to be capable of telling a story across multiple platforms. And that's the way I approach my work.
Recently, Seth Gitner, an assistant professor at Syracuse University S.I. Newhouse School of Public Communications, talked with Scott Anger and myself about the three films we created as part of the Soros Foundation's Stop Torture in Healthcare initiative. We worked in the Ukraine, Cambodia and Namibia.
Here's a pdf of the story, reproduced with th permission of Seth and of the gracious folks at the National Press Photographer's Association News Photographer Magazine.